The World's First Organic, Full-Spectrum Hemp Extract for Birds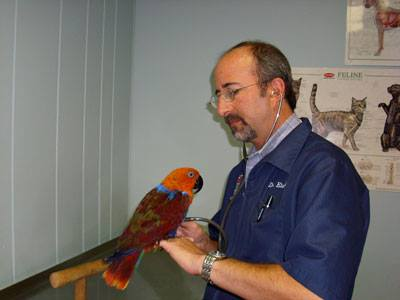 I would like to tell you how pleased several of our bird patients have responded positively to the Cann-Avia. I started a feather picking lovebird on 50 mg once daily last month and she is doing much better. Less itchy, less jittery according to the owner. Another bird, a Blue Fronted Amazon, was attacking the husband whenever he would enter the room. He was put on 100mg daily and has reverted back to allowing the husband to handle him again. I have been quite impressed so far with the feedback.
- Dr. Ken Eisenberg, DVM
Testimonials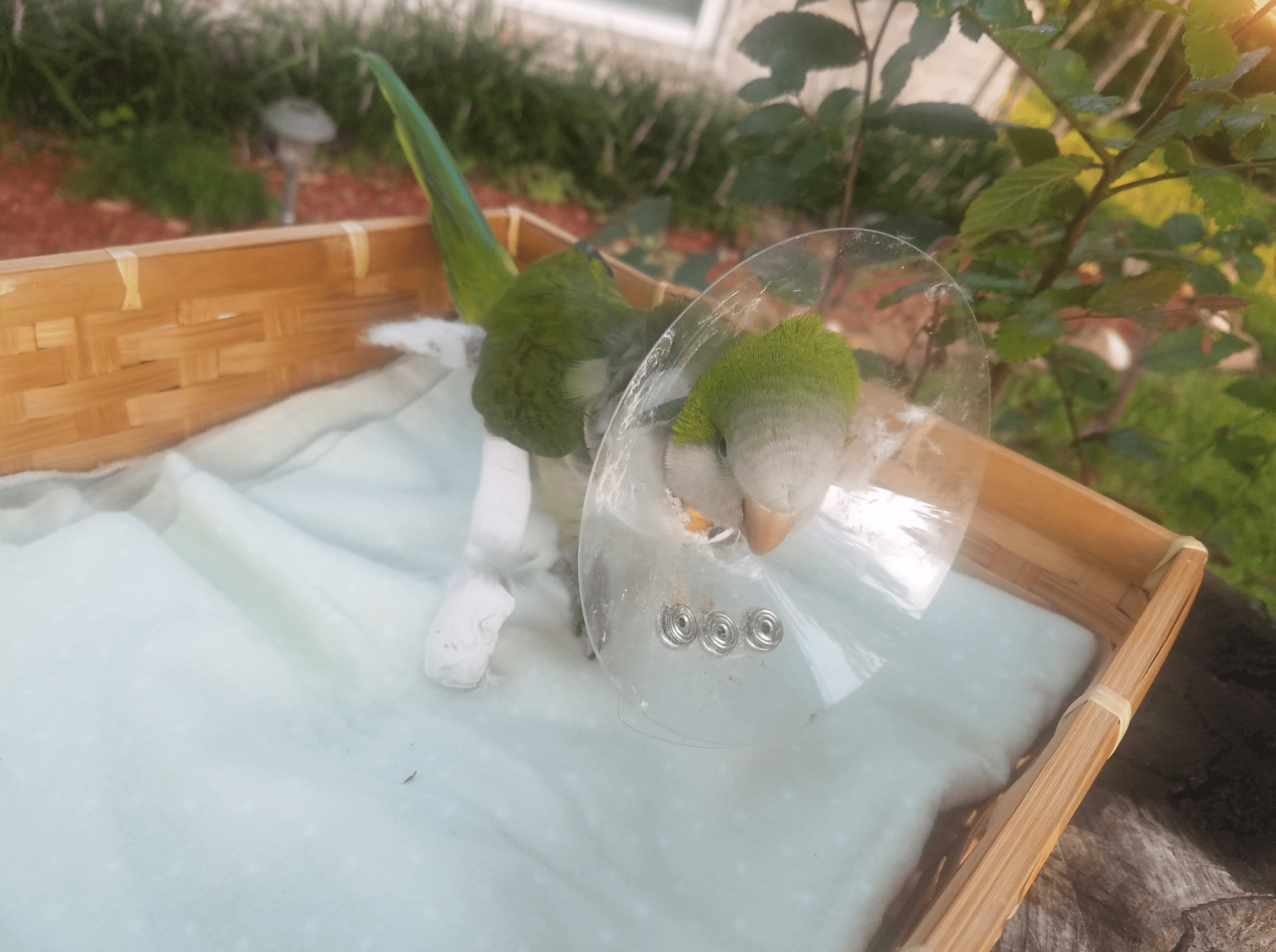 "In May my 1yr old Quaker Parrot broke his femur. We think he flew in to the ceiling fan. After $2,000 in surgery and vet costs, he seemed to have lost feeling of his leg. We thought it had to do with the stint and cast. This created an weird behavior where he started chewing off his fingers. The vet said some conures do this when they feel tingling and it could mean he could lose his leg or eventually put him down if this behavior continued. Out of precaution he had to wear a cone on his neck to keep him from his foot. I'm glad I came upon your page, because the oil has seemed to calm him down. I feed it to him orally as instructed and even placed a drop on his injured foot. 2 months later, he is at about 90% mobility and no longer chews his fingers."
- J. Valdivia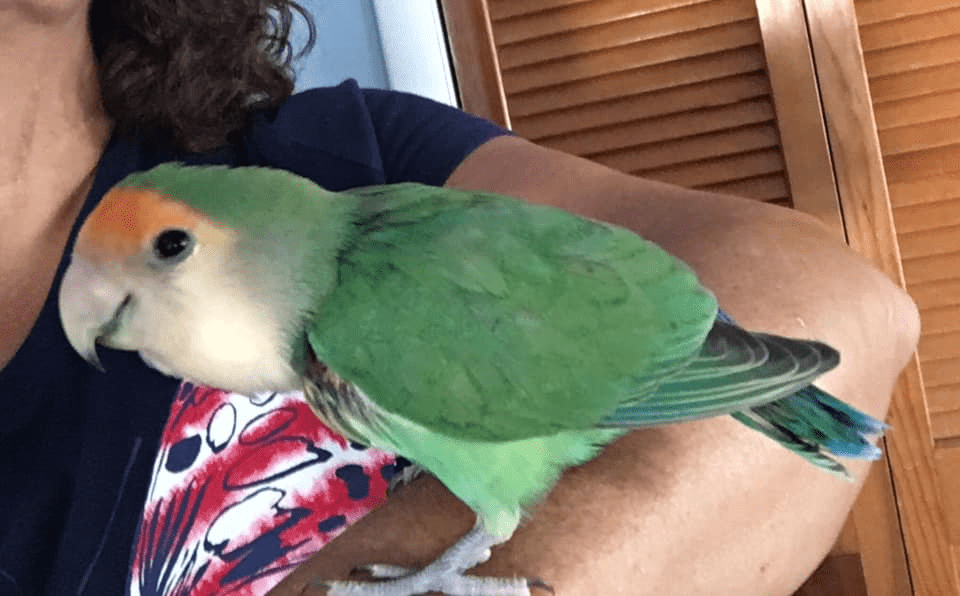 "My lovebird Ozzy hanging out in his Oatmeal house container. He had picked his tail feathers raw about 9 months ago. With patience & guidance from his Avian Dr, along wtih Cann-Avia, his tail feathers are growing back beautifully."
- Happy Customer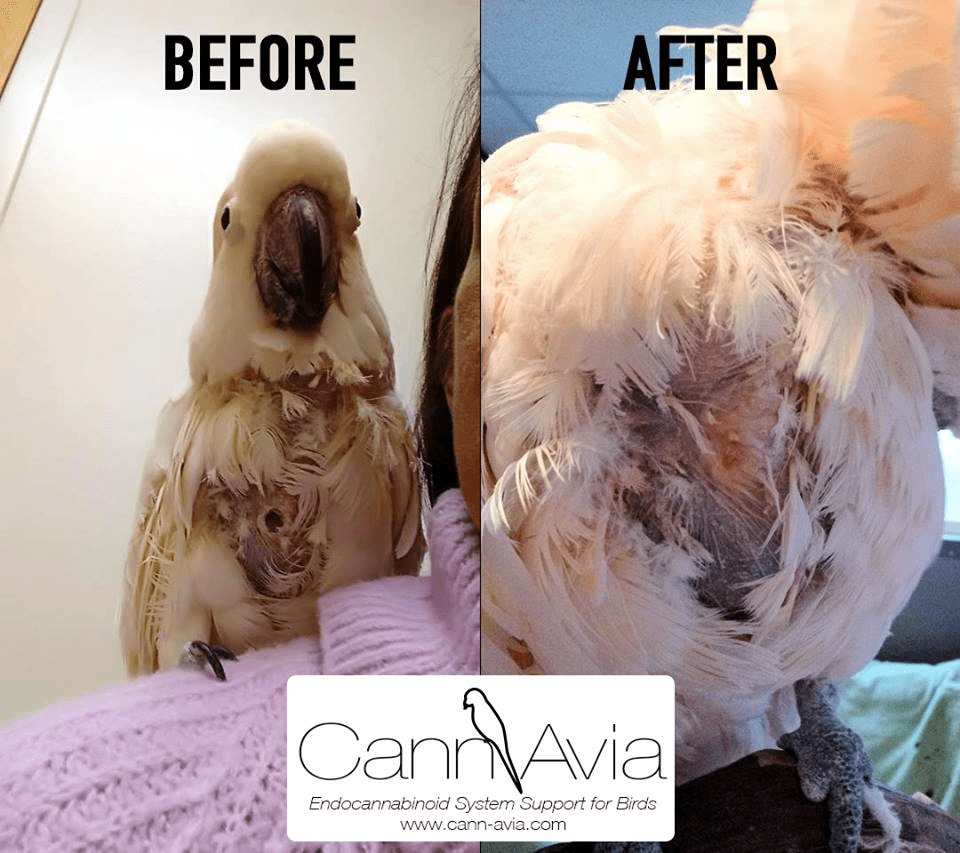 "2 WEEKS, this is the result of using Cann-Avia for 2 Weeks! I adopted my sweet M2 in December 2017. She had an open wound on her chest when I brought her home and I have yet to get it healed, UNTIL NOW. I've bought her a few collars that she eventually figured out how to get around but still wears as a slight deterrent. I've taken her to 2 top Avian vets, spent almost $2,000 on visits, tests and on implants. I've tried Avi-Calm, Chamomile Tea, Rescue Remedy, Manuka Honey, etc. I've changed/improved her diet, increased the amount of sleep she gets. She has an assortment of toys in all shapes and sizes in her huge cage. She gets one on one time every day/night. Nothing has worked. Then recently, I came across Cann-Avia. I've been putting the oil on her wound for 2 weeks and each day I'm surprised at the rate it's healing. Now only 2 weeks later, it is almost completely healed. I can not put into words how happy I am to finally have found something that works!"
- Jeana Brinkerhoff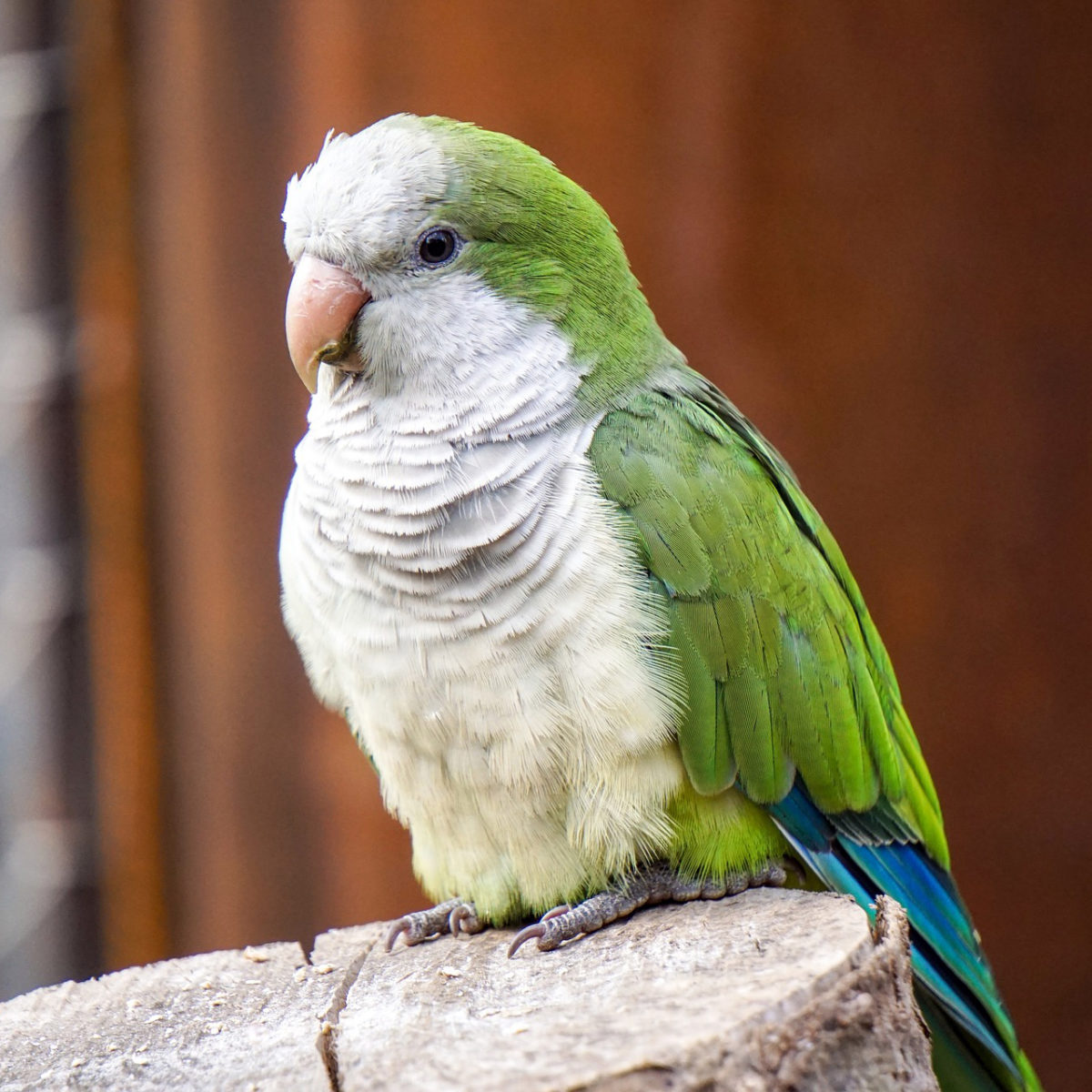 "I am so happy with this product. I have a female cockatiel with an old injury to her wing that she picks at. This has gone on for over 10 years. The vet has tried every medication available. She mostly lived in a collar. I started the Canna Avia and on the first day, she stopped ripping her skin open. She has not had to have a collar on now for 3 weeks."
- Sue Bohne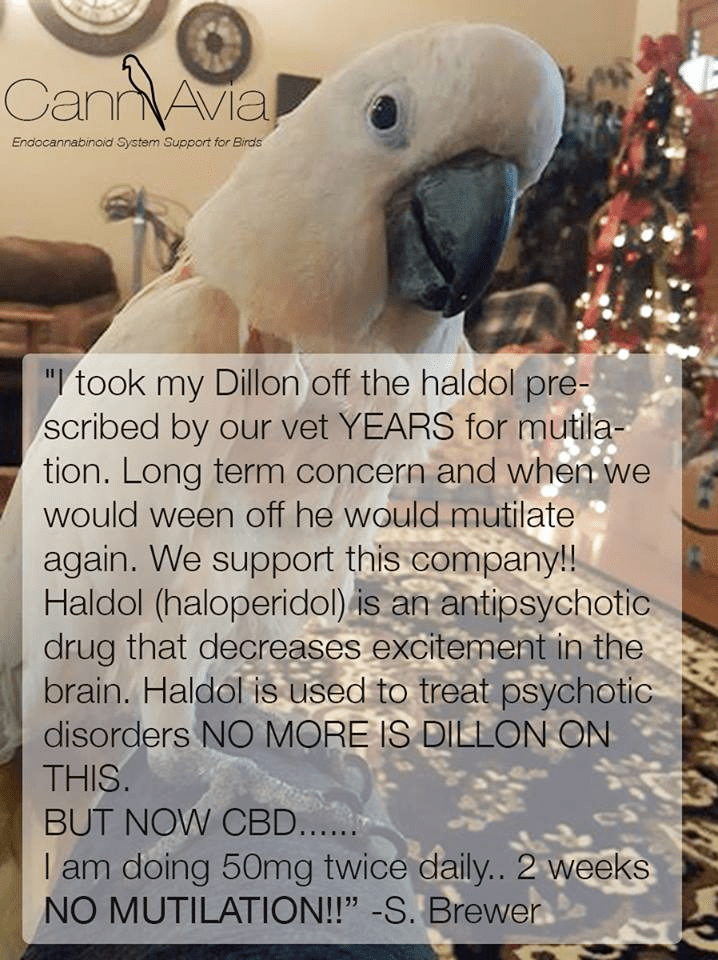 "I took my Dillon off the haldol prescribed by our vet YEARS for multilation. Long term concern and when we would ween off he would multilate again. We support this company!! Haldol (haloperidol) is an antipsychotic drug that decreases excitement in the brain. Haldol is used to treat psychotic disorders NO MORE IS DILLON ON THIS.
BUT NOW CBD......
I am doing 50mg twice daily..2 weeks
No multilation!!"
- S. Brewer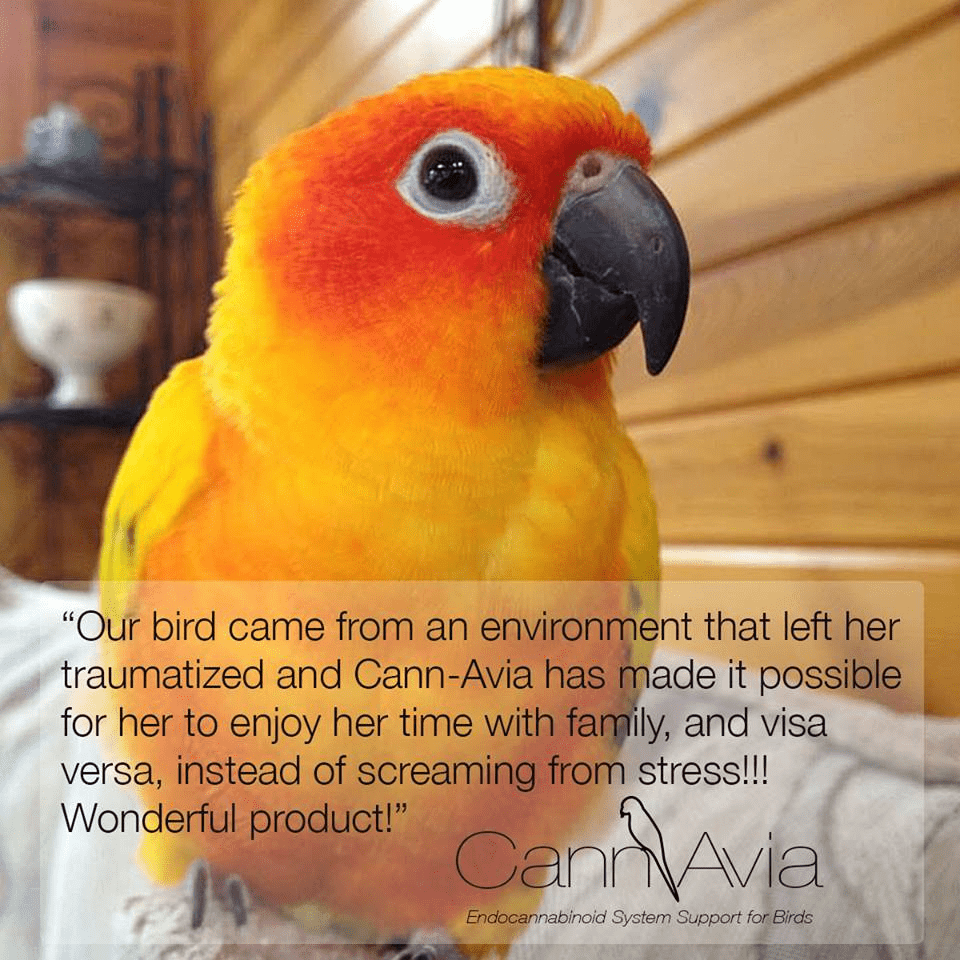 "Our bird came from an environment that left her traumatized and Cann-Avia has made it possible for her to enjoy her time with family, and vise versa, instead of screaming from stress!!! Wonderfull product!"